This is the complete history of Rolling Thunder, a US advocacy group that seeks to bring full accountability for POW and MIA service members of all US wars. Written by Francis Lanzano, June 9, 2019.
---
The History of Rolling Thunder, Part 1: Introduction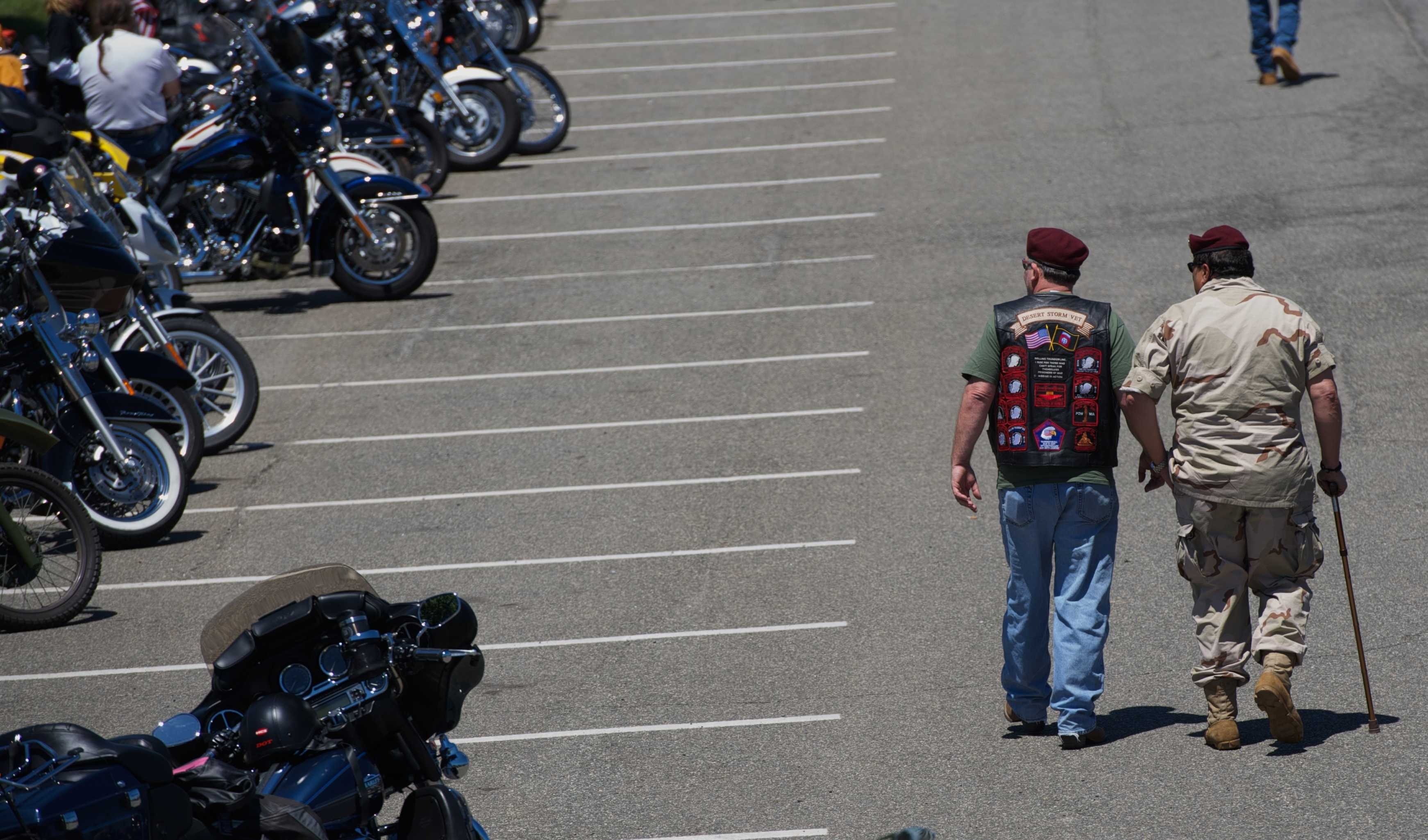 Desert Storm veterans stroll by parked motorcycles, staged for Rolling Thunder May 26, 2013. Source: U.S. Air Force
---
A person close to me has told me throughout my life that there are three types of people that deserve a special place in heaven: nurses, teachers, and mothers. This is a balanced list that contains devotedly selfless individuals. But I would make one addition: anyone who has served or is currently serving in the United States Armed Forces – especially those that have been forgotten. The sacrifices made by these individuals are difficult to comprehend. The bottom line, however, is that they risk their lives so other Americans don't have to. The hazards associated with war are unfathomable: hand grenades, land mines, firefights, rocket launchers, camouflage, enemy helicopters, days, weeks or months of trekking behind or close to enemy lines with limited access to life's bare necessities, not sure when or from which direction the next enemy attack is coming. Close your eyes. Imagine being behind enemy lines. Imagine holding your best friend as they gasp their final breaths while all you can do is be there and remind them one last time everything they meant to you. Promise them that you will get them home to their family so their life can be celebrated properly. Now, open your eyes. Open them to the reality that there are many families to whom this promise was not kept. Around 92,000 to be specific. This is the number of POW/MIAs from all of the wars dating back to WWII, a number that is atrociously high. But on Memorial Day 2019 in Washington DC, there were nearly 1,000,000 demonstrators protesting this issue at the annual motorcycle rally, continuing to raise awareness and demand that more is done on a legislative level to return these troops to their families on American soil.
I had the good fortune of speaking with Pat Taylor, the Chairman of the Board and Media Coordinator of the Colorado Chapter of Rolling Thunder Inc. Chairman Taylor and his wife have been members since 2004. He was never able to serve, as he is blind in one eye. With that said, he is very active in the Organization and told me he would be "honored" to answer any interview question about himself, the Run, or the Organization* in order to piece together the complete history of Rolling Thunder. His input will be found throughout this article. (*Throughout the article, "The Organization" will be in reference to Rolling Thunder National.)
---
---
The History of Rolling Thunder, Part 2: The Run
The annual ride by Rolling Thunder as it crosses the Memorial Bridge in Washington D.C. Originally posted to Flickr as Rolling Thunder, Memorial Bridge. Author: Cristiano Del Riccio.
---
The official history of Rolling Thunder begins in the late 1980s. The motorcycle rally is organized by Rolling Thunder Washington, DC Inc., and has taken place every Memorial Day in Washington since 1988. The origin of this decidedly fitting name comes from Operation Rolling Thunder, the years-long American bombing of Northern Vietnam that marked the beginning of a major expansion of US involvement in the Vietnam War. That first year, in 1988, around 2,500 bikers participated. News coverage of the event was very limited, and most Americans remained ignorant to the organization and the values it stood for. From that point on, though, each year the event grew. Founders Ray Manzo and Artie Muller, veterans of the Vietnam War, worked tirelessly to build the event and its following. They received a great deal of help from retired Army Sergeant Major John Holland (head of the American Foundation for Accountability of POW/MIAs), Ted Sampley, retired Marine 1st Sergeant Walt Sides (president of the non-profit Warriors Inc), and Bob Schmitt (who had a POW family member). By 1993, international riders from Canada, Australia, and South Korea began to participate in the event. The Run itself lasts only about 20 minutes as it slowly proceeds over Memorial Bridge and ends at the Pentagon. But participants ride from all over the country (Chairman Taylor says a handful of members rode all the way from Colorado for a recent Run) to Washington to raise awareness for the lost heroes of America.
---
---
The History of Rolling Thunder, Part 3: The Organizations
Rolling Thunder DC Facebook, Proud to be an American! Photo – Jennifer E. Berry
---
In 1995, Artie Muller formed Rolling Thunder National under the umbrella of Rolling Thunder Motorcycle Rally (Rolling Thunder Washington DC, Inc). State chapters began forming across the country. This way, riders who weren't able to make it all the way to Washington to participate in the Memorial Day Run could still become members of the organization and show their support. There are currently 90 chapters in 32 states across the country, with the national headquarters located in Neshanic Station, New Jersey. It is not a requirement to be a veteran or to ride a motorcycle to be affiliated with Rolling Thunder. As Chairman Taylor says, "not all of our members are veterans, but are committed to helping the veterans." The organization is a non-profit, and all employees are unpaid volunteers. Fundraising is sourced strictly from donations, and these funds are used for financial aid, food, clothing, and other essentials for veterans, homeless veterans, veterans' families in need, and women's crisis centers. The organization spends over $500,000 each year nationwide to raise awareness and educate the public about POW/MIA issues and other injustices suffered by veterans.
---
---
The History of Rolling Thunder, Part 4: The Founders
Ray Manzo (left) and Master Sgt. Rob Wilkins, U.S. Air Force (ret.), board of directors, Rolling Thunder, Washington, D.C. Inc. Compliments of History.net.
---
Ray Manzo served in the United States Marine Corps as a combat engineer in Company B, 7th Engineer Battalion, 1st Marine Division. Sources say Manzo was known for his firm belief that you never leave a comrade behind. He proved how strong this conviction was on November 6th, 1968, when he was on a mine sweep with his second platoon near Hoi An. Facing intense enemy fire, Manzo heroically rescued two wounded Marines trapped in the line of fire, pulling them to safety despite the overwhelming danger of bullets whizzing past his head from hidden gunmen and live explosives planted at almost every step. He was awarded a Bronze Star Medal for his courage that day.
After the War, Manzo vowed to put it all behind him. For years, he suppressed all emotions relating to the War, deciding that the best way to move forward was to forget. But a serious shift occurred when he visited the Vietnam Veterans Memorial Wall in Washington in the Spring of 1987. That was when he learned about the POW/MIA problem. Instantly, his mindset changed, and he wanted to do everything he could to publicize the problem. "It was eating at me like a cancer. I kept asking, what can be done to make this country aware that guys were left behind and could still be in southeast Asia?" Manzo knew he had to do something. Then, in the Fall of 1987, he met Artie Muller.
Artie Muller served in the US Army 4th Infantry Division, fighting in the jungles of South Vietnam, Laos, and Cambodia as a 20-year-old. He was appointed permanent Run Commander in 1997, and in 1999 became Chairman of the Board for the Rolling Thunder Motorcycle Rally. His current title is the Executive Director of Rolling Thunder, Inc. According to the Washington Times, Muller has "never shaken off" reports that there have been sightings of a significant amount of Americans living in "dismal captivity" in remote locations. In the fall of 1987, Muller and Manzo had a conversation about forming the organization. At this time, the number of American POWs still held hostage in Vietnam was estimated to be around 10,000. For some perspective, the last POW from the Vietnam War to return home was Robert Garwood in 1979. That equals years of letting this issue lie dormant. This information lit a fire under Muller. Thus, the organization was born.
In 1992, Manzo relinquished his leadership role. For obvious reasons, the POW/MIA issue is extremely time-sensitive. Manzo felt that time was running out to help the POWs. "For me, Rolling Thunder was about getting something done immediately for the living POWs. It wasn't something for me to do forever." Although he is no longer in charge, Manzo still regularly attends the Memorial Day Run and supports the organization and its core mission. "Everybody who ever serves can count on the fact that if they are ever left behind, there are guys like me who will never let them be forgotten."
---
---
The History of Rolling Thunder, Part 5: Ben Nighthorse Campbell (R-CO)
Campbell speaks at the commissioning of the USS Mesa Verde (LPD 19) in 2007
---
For an independent organization to make a legislative impact as significant as the one made by Rolling Thunder is extremely difficult. Maybe even impossible without the help of a respected politician. In the case of Rolling Thunder, this politician is Ben Nighthorse Campbell, a serious asset to the Organization during the years in which they made the biggest legislative strides. He served as a US Representative from 1987-1993 and was a US Senator from Colorado from 1993-2005. A member of the Northern Cheyenne tribe, Nighthorse Campbell was the first Native American to serve in the US Senate in more than 60 years. He has all the credentials and characteristics of a great leader: he was in the Air Force, serving in the Korean War until 1953 when he left with the rank of Airman Second Class, also attaining an Air Medal and a Korean Service Medal. He has an honest, "straight-shooting approach," winning people over with his commanding personality that to this day is filled with candor and vigor. He rides a motorcycle and says he has ridden with Rolling Thunder "about a dozen times." Nighthorse Campbell is well-liked and respected not just among the Organization, but throughout the country.
Over the years, he has immersed himself in the POW/MIA issue. In the 90s and early 2000s, he entrenched himself as the political go-to for the Rolling Thunder Organization's lobbying efforts. The most notable bills/amendments with which he has had a serious involvement include the following:
– Missing Service Personnel Act of 1997 (originally sponsored by Nighthorse Campbell in 1993)
– The Bring Them Home Alive Act of 2000 (Nighthorse Campbell sponsored and co-authored with Rolling Thunder)
– The POW/MIA Memorial Flag Act of 2001 (Nighthorse Campbell introduced and was the "driving force" behind this bill)
– The Persian Gulf War POW/MIA Accountability Act of 2002 (Nighthorse Campbell was the first to introduce this Amendment)
In other words, Nighthorse Campbell has been an indispensable resource for the organization. He has made multiple trips back to Korea to recover the remains of POWs/MIA. As a congressman, he went with other members of Congress to North Korea to retrieve four caskets of American soldiers that were promised in exchange for better trade relations with the United States. The group took a helicopter to Panmunjom, where the Korean Armistice Agreement was signed in 1953, and received the four caskets. Each one had dog tags and paperwork. The Congresspeople inspected and signed for each one before taking them back to Hickam Field in Hawaii to have DNA tests done. According to Nighthorse Campbell, "they were not four soldiers, they were a whole bunch of soldiers." The Koreans had killed these American POWs and buried their remains. Years later, when they wanted to strike a deal, they dug them up and combined the various bones in the caskets. As Nighthorse Campbell says, this shows "no (respect) for human life."
It was instances like these that motivated Nighthorse Campbell to relentlessly pursue justice and spread awareness for the POW/MIA issue. He says that the POW/MIA logo for the flag was drawn by a veteran on a cocktail napkin years and years ago. "That image sort of caught on with the motorcyclists, and they began to use it as their symbol and it became sort of a national symbol for POW/MIAS." Nighthorse Campbell is a cornerstone of the Organization, and he will forever be held in high regard by Rolling Thunder and its members.
---
---
The History of Rolling Thunder, Part 6: Legislation
The Rolling Thunder Organization understands that it takes more than raising widespread awareness to make a major difference. For years, the Organization has been extremely active legislatively, either authoring or advocating for various bills and amendments that would assist with the POW/MIA issue. The following list summarizes the bills/amendments that are most notable.
Missing Service Personnel Act of 1997. Originally sponsored by Sen. Campbell in 1993, the main purpose of this Act is to guarantee that missing servicemen/women couldn't be "killed on paper" without concrete proof of their death. This Bill spearheaded the shift in assuming POWs were dead, to expecting POWs to still be alive. Rolling Thunder played a major role in facilitating the passing of a majority of these resolutions.
The Bring Them Home Alive Act of 2000. This Act grants nationals from certain countries refugee status in the United States if they are able to assist in returning any POWs/MIA alive. First introduced by Sen. Ben Nighthorse Campbell (R-Colorado), this was signed into law in 2001. According to Chairman Taylor, this is the most significant Bill that Rolling Thunder has ever authored.
The POW/MIA Flag Act of 2001. This was signed into legislation by President George W. Bush in part because of Rolling Thunder lobbying efforts. This Act states that the POW/MIA flag will fly below the American flag any day it is displayed in Washington DC at the Vietnam Veterans Memorial, Korean Memorial, WWII Memorial, and all federal buildings and military facilities. Additionally, Rolling Thunder was "instrumental" in passing legislation that requires the POW/MIA flag to be flown under the American flag on all six national holidays.
Persian Gulf War POW/MIA Accountability Act of 2002. Amends the Bring Them Home Alive Act of 2001. The law states that nationals "of Iraq or the Greater Middle East Region" who help return American POWs alive can be granted refugee status under this amendment. The story of Jessica Lynch confirms the importance of this amendment. More on that below.
Respect For Fallen Heroes Act of 2006. In summation, this amendment prohibits protests within 300 feet of the entrance of any cemetery under control of the National Cemetery Administration. On May 24, 2006, it passed in the Senate with an amendment by unanimous consent. Five days later it was signed by President George W. Bush.
---
---
The History of Rolling Thunder, Part 7: The Story of Jessica Lynch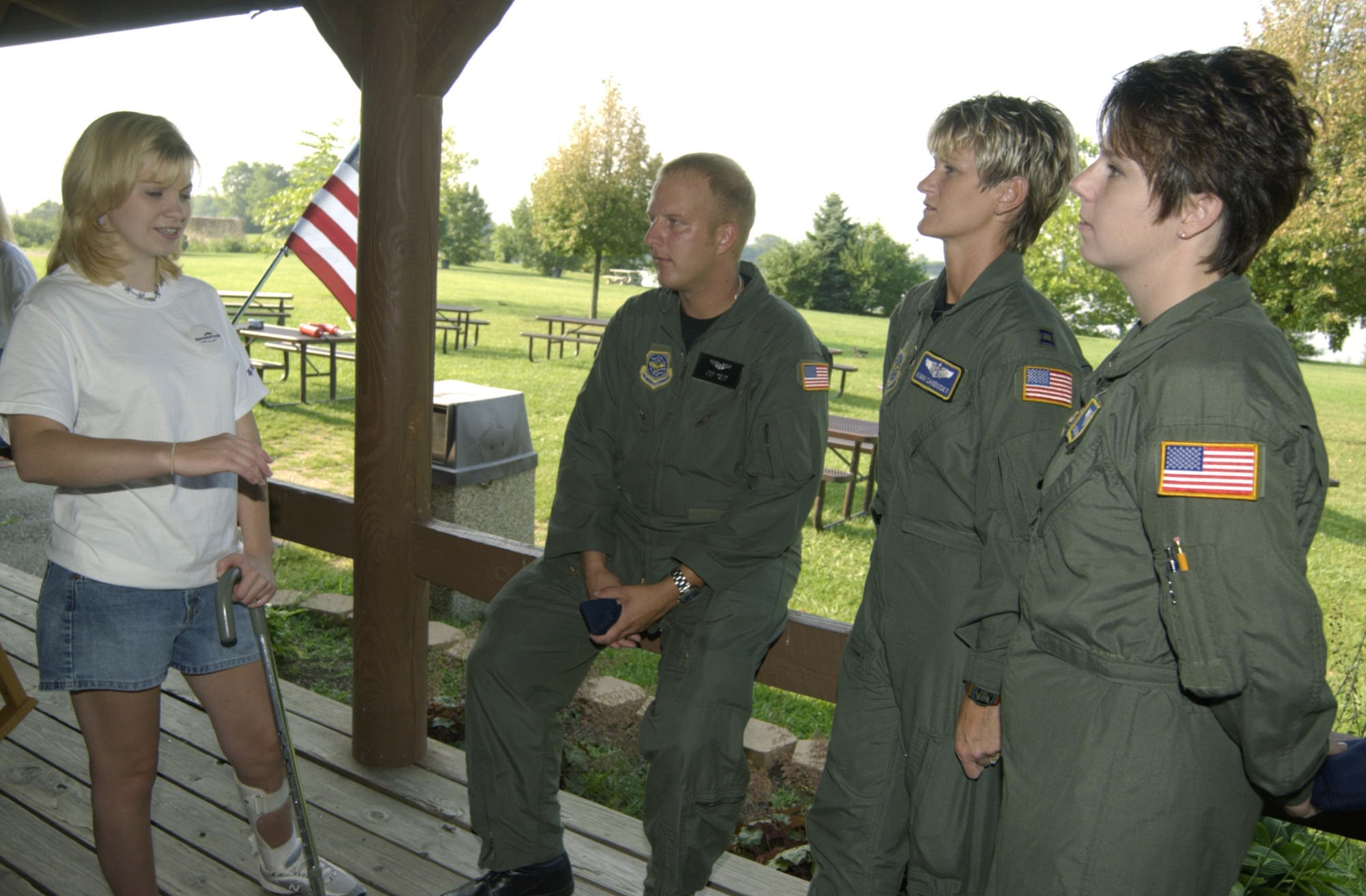 Jessica Lynch, a former Army prisoner of war, speaks with Airmen from the 445th Airlift Wing here Aug. 3. Tech. Sgt. Hans Jagow, Capt. Kimm Sandusky and Staff Sgt. Sandi Golden-Vest helped transport Ms. Lynch back to the United States in April 2003. This meeting was the first time they had met face-to-face. (U.S. Air Force photo by Spencer P. Lane). Source: U.S. Air Force
---
As the Gulf War raged on, it became increasingly necessary to amend the Bring Them Home Alive Act of 2000 and add Iraq and other Middle Eastern countries to the list. Almost immediately, the necessity of these changes manifested itself.
Jessica Lynch was born in the rural West Virginia town of Palestine to Gregory Lynch, a truck driver, and Deadra Lynch. She graduated high school in 2001 and immediately enrolled in the US Army. After completing her stateside training the 19-year-old Lynch and her unit were deployed to Iraq in February 2003. On March 23rd, her unit was ambushed outside of Nasiriyah. Her convoy had taken several wrong turns, fallen behind, and was then ambushed by a barrage of rocket-propelled grenades. The humvee that she was riding in then crashed into a jack-knifed truck. After spending time as a captive in Iraqi custody, Lynch was taken to Saddam Hussein Hospital, in Nasiriyah, as a prisoner of war.
Soon after the attack, an Iraqi lawyer named Mohammed Odeh al Rehaief was visiting his wife (a nurse) at the hospital when he noticed a substantial uptick in security. He asked a doctor why the security seemed so much stronger than normal, and the doctor told him there was a female American soldier at the hospital. Al Rehaief wanted to know more, so he asked the doctor to show him where she was. Just as they arrived at the room in which she was being held, al Rehaief said he saw an Iraqi Colonel slap Lynch twice. "My heart stopped… I decided I must go to tell the Americans."
Al Rehaief went to a nearby Marine checkpoint with his hands up and told them he had "important information about Jessica." At this point, her location was a complete mystery to American forces. The Marines asked al Rehaief to return to the hospital several times over the next two days to gather information about the hospital layout, security, and shift changes. He and his wife even made five different maps detailing the hospital layout and Lynch's location. As a direct result of al Rehaief's tips, Lynch was rescued on April 1st, 2003. You can watch footage of the video here.
Tom Ridge, the Secretary of Homeland Security at the time, heralded al Rehaief and his courageous act: "Mr. al Rehaief should know that Americans are very grateful for his bravery and compassion." He went on to say that al Rehaief provided "critical information." Less than a month later, on par with the Accountability Act of 2002, al Rehaief, his wife, and their five-year-old daughter were granted asylum in the United States. Al Rehaief then published a novel about Lynch's rescue and took a job as a consultant for the Livingston Group, in Washington DC.
Although there has been some speculation that parts of al Rehaief's story are not completely true, there is no question that he assisted in Lynch's safe return. Because of the risks he took, she returned home alive. Back in the States, Lynch was viewed as a hero: she received a Bronze Star, a Purple Heart, and POW Medals for her service and captivity in Iraq. Upon her return to America, Lynch decided to go back to school. She received her B.A. in Elementary Education in 2011 and her M.A. in Communication studies in 2014. She earned both degrees from the University of West Virginia.
---
---
The History of Rolling Thunder, Part 8: The Future of the Run
Credit: Rolling Thunder Washington, DC Inc.
---
The 2019 Run was, as it is every year, a spectacle of what can happen when a group of passionate people work towards achieving a common goal. For Rolling Thunder, this goal is to continue fulfilling their mission statement, found on their website: "The major function of Rolling Thunder, Inc. is to publicize the POW-MIA issue: To educate the public that many American Prisoners of War were left behind after all previous wars and to help correct the past and to protect future Veterans from being left behind should they become Prisoners of War-Missing In Action. (They) are also committed to helping American Veterans from all wars."  
Sadly, however, there have been some reports that the 2019 Run may be the Organization's last in Washington, despite concerted efforts from a number of different sources, including President Trump, to keep the demonstration in D.C. for years to come. As Rolling Thunder spokeswoman Nancy Regg stated at this year's rally, "as of right now, this was our final ride. We are done in DC. We will keep going regionally." She went on to say that while the group appreciates the outpouring of support (mostly financial offerings), they have no plans to return to Washington. This decision stems from a number of reasons, including rising costs of event planning and execution, a lack of cooperation from the Pentagon Security Police and Washington Police, as well as continued harassment of the group's supporters and sponsors. This mirrors what Chairman Taylor told me: "This is the last run for Washington D.C. –  with the cost and time that it takes to put this Run together each Memorial (Day) it was decided by the Organization that the money would be better (used) if it went directly to the Veterans in need."
Although this marks a somewhat abrupt end to a very successful era, the Organization lives on. As Regg said, there will still be smaller demonstrations held throughout the country. Rolling Thunder will remain a pillar in the world of veterans' affairs, raising money for veterans and their families while making sure that Americans everywhere realize that the POW/MIA issue persists. Thanks to Rolling Thunder's commitment to educating Americans on the severity of this issue, we are leaps and bounds ahead of where we were 20 years ago. There are now POW/MIA-specific laws in place. There are nearly 100 chapters across the country dedicated strictly to promoting the importance of the POW/MIA issue. There are powerful politicians who have major affiliations with the Organization. And most importantly, there is a heightened consciousness, a general understanding, of the magnitude of this problem. The significance of this widespread recognition is immeasurable because change has never come about without first acknowledging that a problem exists. To the lost heroes of America who put their lives in harm's way so the American flag can still fly high, proud, and free: you are not forgotten.