Quick Note: We are featuring our outdoor lounge chairs made in USA pick as part of our American Made Series. This means it may not fall under our Veteran-Owned, Small Business, or American Savers categories. The Flag is reader-supported. When you buy through links on our site, we may earn an affiliate commission.
This time of year is great for sitting outside in the evening, and there's nothing quite like having a group of good friends over for a cookout on the grill. With Independence Day now behind us, there's no reason why we can't keep relaxing outside in good quality lounge chairs, specifically outdoor lounge chairs made in USA. 
With our buying guides, we strive to help American businesses thrive and spread the word about quality products. Keep reading to see our top pick for outdoor lounge chairs. 
Outdoor Lounge Chairs Made In USA Considerations
When it comes to outdoor furniture, there are endless options available. Which features are most important to you? Do you prioritize style, durability, or a specific material? In this buying guide, we consider a few different elements to meet all needs. A nice combination of these features is ideal, and that's what we highlight today with the Black Rialto outdoor lounge set. 
Style: What do the chairs look like? Are they stylish? Do they come in a variety of colors? Will the style hold up for years to come? 
Bells and Whistles: There are so many outdoor seating options out there. With that said, what sets these outdoor chairs apart from the crowd? We considered all features. 
Price: This is likely the most important thing to consider for any product. Is it worth your hard-earned cash? We'll let you know. 
Reviews: What's everyone saying about the product? 
You can rest assured that we kept all these factors in mind when reviewing the Black Rialto seating set. Let's dive in and see what makes this outdoor lounge set so special. 
Flag These Outdoor Lounge Chairs Made In USA Features
You're on the hunt for the best outdoor furniture you can find. Perhaps the most important consideration — outside of price and durability — is style. Above all, the Black Rialto seating set from Wayfair has this in spades. 
The 12 pieces in this furniture set will provide you with a classic, sleek look for your outdoor entertainment area. You're likely familiar with Adirondack chairs, the classic wood-slat constructed chairs often found on patios. The Black Rialto chairs are more laid back than traditional Adirondack varieties. Moreover, the gentle lounging look paired with ottomans and tables provides a notably elegant aesthetic. 
This set offers a wide palette of 11 color options. As a result, you'll have no trouble matching the set with your other decor. 
The set is constructed using a high-strength poly material that withstands the elements better than wood. It's easier to clean, longer lasting, and made of recycled plastics to cut down on waste. Furthermore, this furniture set has a natural woodgrain look, called NatureTex®. This surface reflects the authentic look of wood without the pains of maintenance. 
So, pull up a chair, ottoman, and table. Sit by the fire and relax with the Black Rialto set. 
Lounge Chairs Made In USA Pricing
Finally, one of the most important things to consider: price. The Black Rialto outdoor furniture set is durable, stylish, and easy to clean. When you consider the fact that this furniture will last you a lifetime and that it's made in the USA, $2,369.99 doesn't sound bad at all.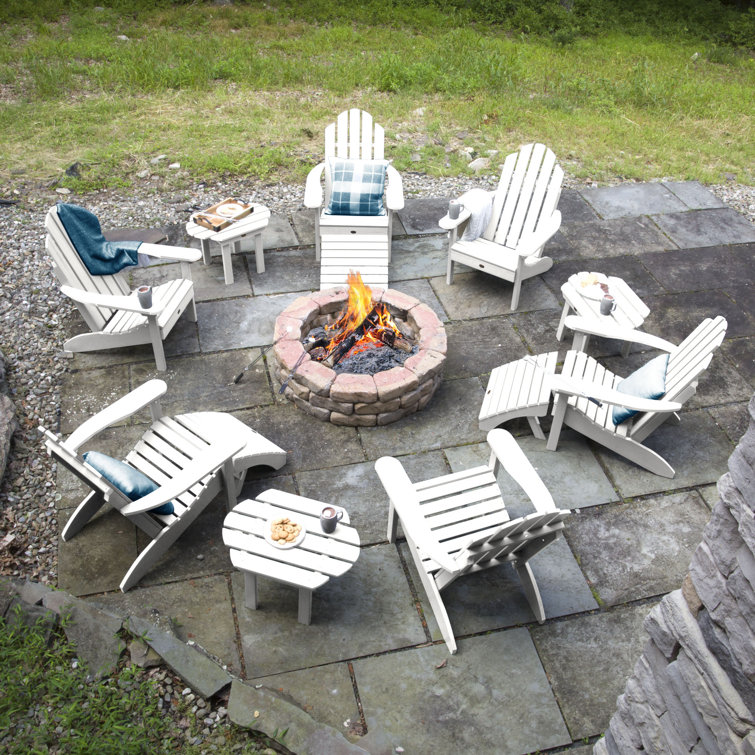 FAQs to Flag
What are the dimensions of the chairs? 
The Black Rialto Lounge Chair dimensions are 38.75" H x 30.25" W x 35.25" D. 
Where is the furniture set made? 
Right here in the USA! Specifically, the set is constructed by skilled Pennsylvania craftsmen. 
Will the metal hardware rust?
Nope! All hardware used to make this furniture set is stainless steel. Like the rest of the furniture, it is weather- and season-resistant. 
Flag Polls: What the Public Thinks About the Product
When compiling these buying guides, one of the most important things we look at is reviews. For the Black Rialto Lounge set, specifically, consumers have nothing but good things to say:
My husband and I bought this set for our new paver patio! My husband had no trouble putting everything together. He said there were few pieces, and it was pretty simple! This set was back ordered and we waited from August to November to receive it but the set was well worth the wait! Very sturdy and nice looking!
Another happy customer said: 
Beautiful and comfortable. Also easy to put together. Great quality product as well. Love them.
Finally, another buyer shared: 
Excellent quality and living in FL you have to purchase weather resistant outdoor furniture and this fits the bill. I would highly recommend this furniture. 
Looking for More?
If you love our buying guides, don't forget to subscribe to our newsletter. We provide a balanced briefing for tens of thousands of readers every morning and share new products every week.