Quick Note: We are featuring our bar stool made in USA pick as part of our American Made Series. This means it may not fall under our Veteran-Owned, Small Business, or American Savers categories. The Flag is reader-supported. When you buy through links on our site, we may earn an affiliate commission.
Bar Stool Made in USA Introduction
If you're redecorating, moving into a new home, or looking for additional seating options, you may be in the market for a bar stool made in USA. Bar stools are a great addition to a kitchen island or an actual bar, but they are versatile enough to work into most rooms in the house. Current styles can fit into any aesthetic, whether rustic or modern. Plus, since they're typically lightweight, you can easily move them from room to room when you have company over and need additional seating. If you're shopping for a new bar stool or bar stool set, look no further than Wayfair's American Made selection.
Wayfair makes it incredibly easy to find American Made products on its website. "American Made" is a feature you can filter by, so if supporting local business is as important to you as it is to us at The Flag, this website tool is incredibly convenient. Plus, an American Flag featured on the product overview will alert you to an American-Made product. Supporting companies based in the USA helps stimulate the economy, so it's great to shop local whenever possible.
Bar Stool Made in USA Considerations
When selecting your bar stool, one of the first things to decide is if you seek a back on your chair. Wayfair has filtering options for this, which include backless, low-back, and full-back varieties. If you prefer back support, you'll obviously want to avoid backless options. Low-back options offer support, but you'll want the full-back option if you see yourself using this chair for long periods of time.
The seat material is important to consider, too. There are wood, wicker, plastic, and metal options on Wayfair's site. A cushioned seat cover may be available as well. You can always add a cushion to a seat that doesn't include one, but one made specifically for the stool will likely fit better.
Flag These Features
You should also consider stool functionality pre-purchase, too. If you have limited space, you may opt for stools that are stackable, like the Pegram 24″ Counter Stool. You can easily keep these out of the way, and they still offer a backrest. This stool comes in a set of four, which makes it easy to fill up space behind your bar's countertop.
If you plan to use your bar stools at a specific counter, the height will be important — and many of Wayfair's bar stools made in USA are in fact adjustable. This makes the stools more versatile, so it's a great feature to look for. The Brahmjot Swivel Adjustable Height Stool Set can range from 38″ to 46″ and reflects a clean, modern look. As suggested by its name, this stool can also swivel. Comfort is king for this bar stool made in USA, especially given the added benefit of a footrest.
Wayfair also marks items that were "made clean" or are "environmentally preferred," a plus for environmentally conscious consumers. Specifically, companies manufacture Made Clean products with few chemicals and clean air. Likewise, environmentally preferred products make less of an impact on the environment.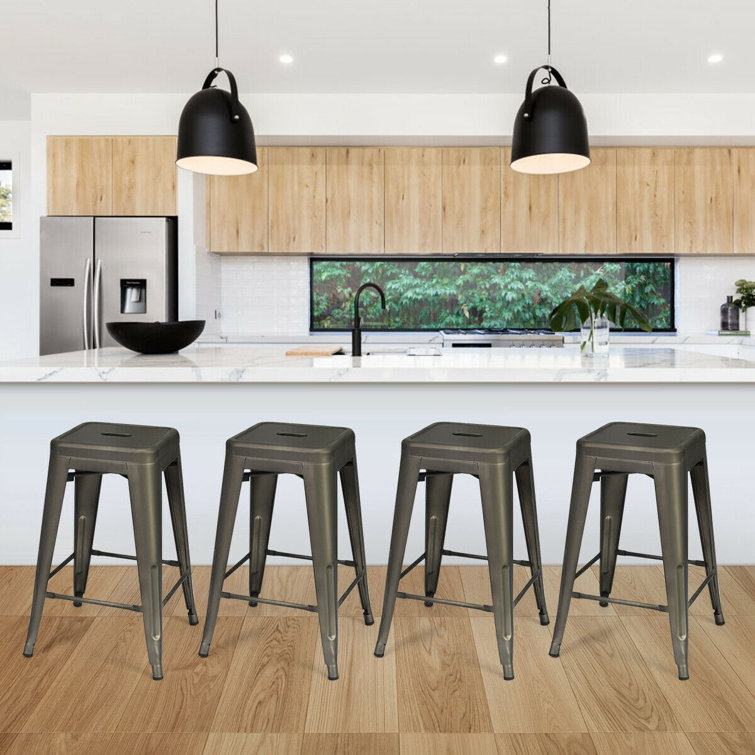 Price Tags
The majority of Wayfair bar stools fall in the $200-400 range. It's important to note if stools are sold in a set or separately when you are ordering, and Wayfair lets you search by "price per item." The website also offers samples of some of its fabrics, so you can make sure you're confident in your selection before making a purchase.
Split into three categories, Wayfair's sale section is also worth a review. The first section is flash deals. These are new each and every day, so you can enjoy massive savings on all sorts of items if you check the website regularly. Wayfair also offers special closeout deals. These apply to discontinued products when the company is trying to sell off remaining inventory. Wayfair also offers discounts on items that are returned by other customers. These products are basically brand new, so you can get really great finds in this section, too.
Please keep in mind that not all of the sections above offer exclusively American made goods. We will help you do the research to find those products.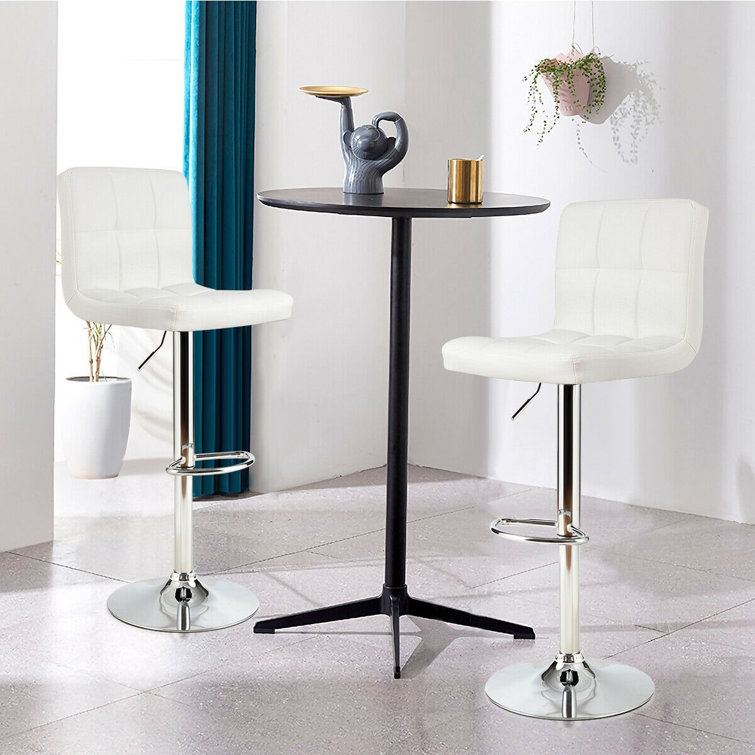 Looking for More?
Curious to learn more about Wayfair? This company has a huge reach. The website features 22 million products, so it's no surprise that it's a household name. There's plenty more to learn about the firm, from sustainability efforts to its commitment to fund accessible homes for veterans.
If you love our buying guides, don't forget to subscribe to our newsletter. We provide a balanced briefing for tens of thousands of readers every morning and share new products every week.