Quick Note: Our American made sneakers pick is featured as part of our American made series. Therefore, it may not fall under our Veteran Owned, Small Business, or American Savers categories. The Flag is reader-supported. When you buy through links on our site, we may earn an affiliate commission. All pictures are courtesy of New Balance unless otherwise specified.
Your shoes take a beating every day. Think about it. Often, you slip them on in the morning and don't take them off until you're relaxing on your American made recliner later that night. There's a lot that happens during the daily dash. Maybe you only went on a little walk and worked in the home office. Or, you went on a 15-mile run for some annual fundraiser event. Regardless of what you're doing, you need top-quality sneaks to get you through the day. That's why we wanted to highlight a pair of the best American made sneakers, this fresh set from New Balance. 
A Little Bit About The Company
New Balance is a classic American brand that people around the world recognize. Whether you're in the far reaches of Asia or in central Europe, New Balance is a strong brand that has been making a name for itself since the early 1900s.
New Balance launched in 1906 as an arch support company founded by William J. Riley. William was an Irish immigrant who was determined to make shoes more comfortable and better fitting. New Balance sneakers were the first shoes to offer different widths, which still sets them apart today. New Balance is well-known for shoes that provide a wider toe box. A wider toe box allows your feet to spread out naturally and reduces blistering and rubbing.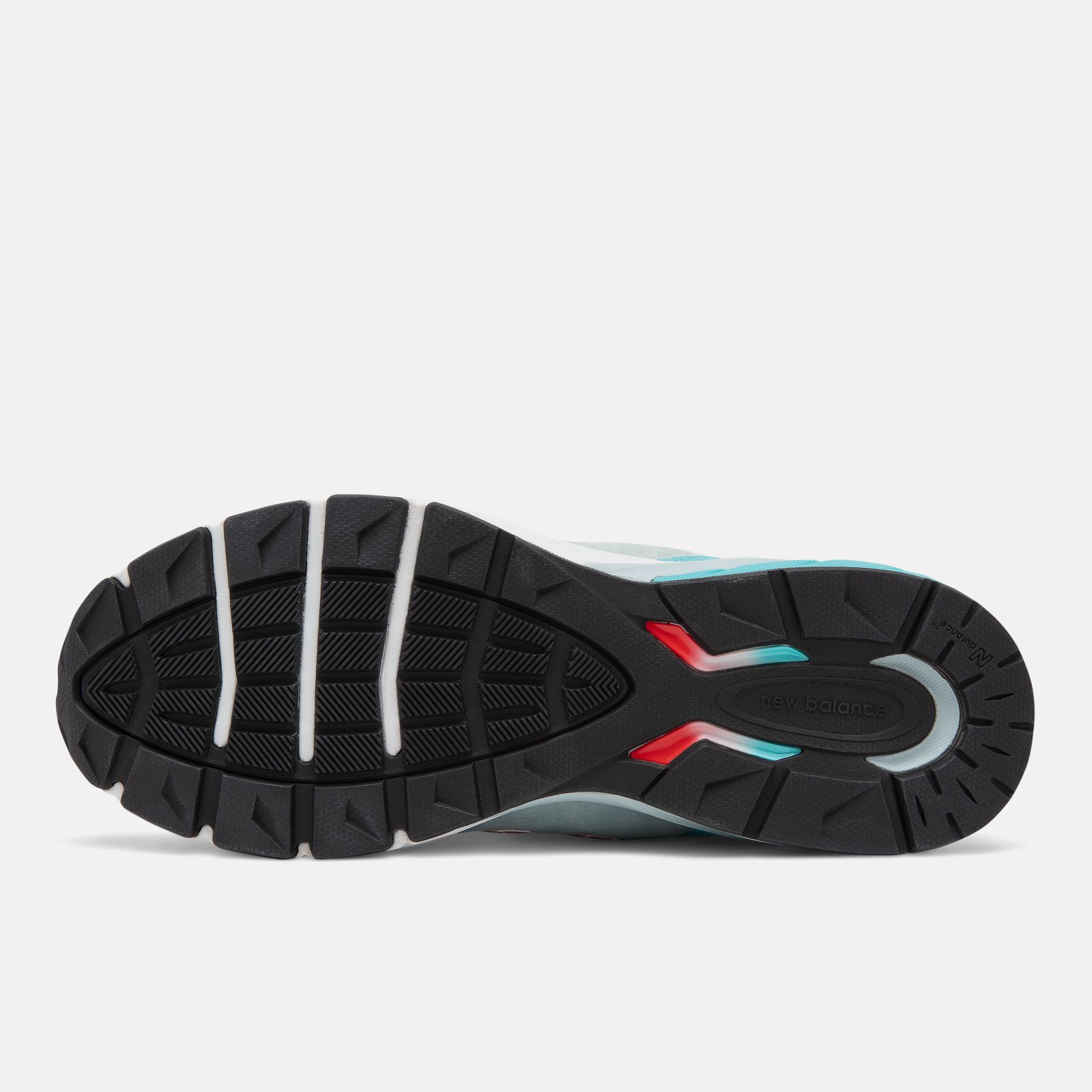 American Made Sneakers Considerations
There's nothing quite like putting on a fresh, new pair of sneakers. Don't get ahead of yourself, though. First, you need to consider a few things. When you're trying on new shoes, you need to think about comfort, durability, and style. If the shoes aren't comfortable, what's the point? You always want the heel and midfoot to feel snug—not tight. There shouldn't be any heel slippage either.
How about durability? Do they last long? You don't want to buy a pair of shoes that only lasts a few months. You want them to hold strong as long as possible so you're happy with your investment. Finally, are they stylish? After all, you want to look good while wearing them. 
Let's jump in and talk about our top pick: the New Balance 990v5. 
Flag These American Made Sneakers Features
These shoes have everything we mentioned above: comfort, durability, and style. The shoe features a 12mm heel-to-toe drop to provide excellent comfort when you take a run or walk. The blown rubber outsole is grippy and performs in a variety of weather conditions. The upper is suede and mesh. So, you can rest assured that this is a breathable, flexible, and stylish sneaker. 
Let's look at the inside. Around the ankles, you'll see a dual-density foam collar that provides unmatched ankle support. After all, you don't want to roll your ankle running down a hill. This sneaker also features ENCAP midsole cushioning that uses lightweight foam with a polyurethane rim. This cushioning provides the all-day support you need to feel comfortable getting from point A to point B.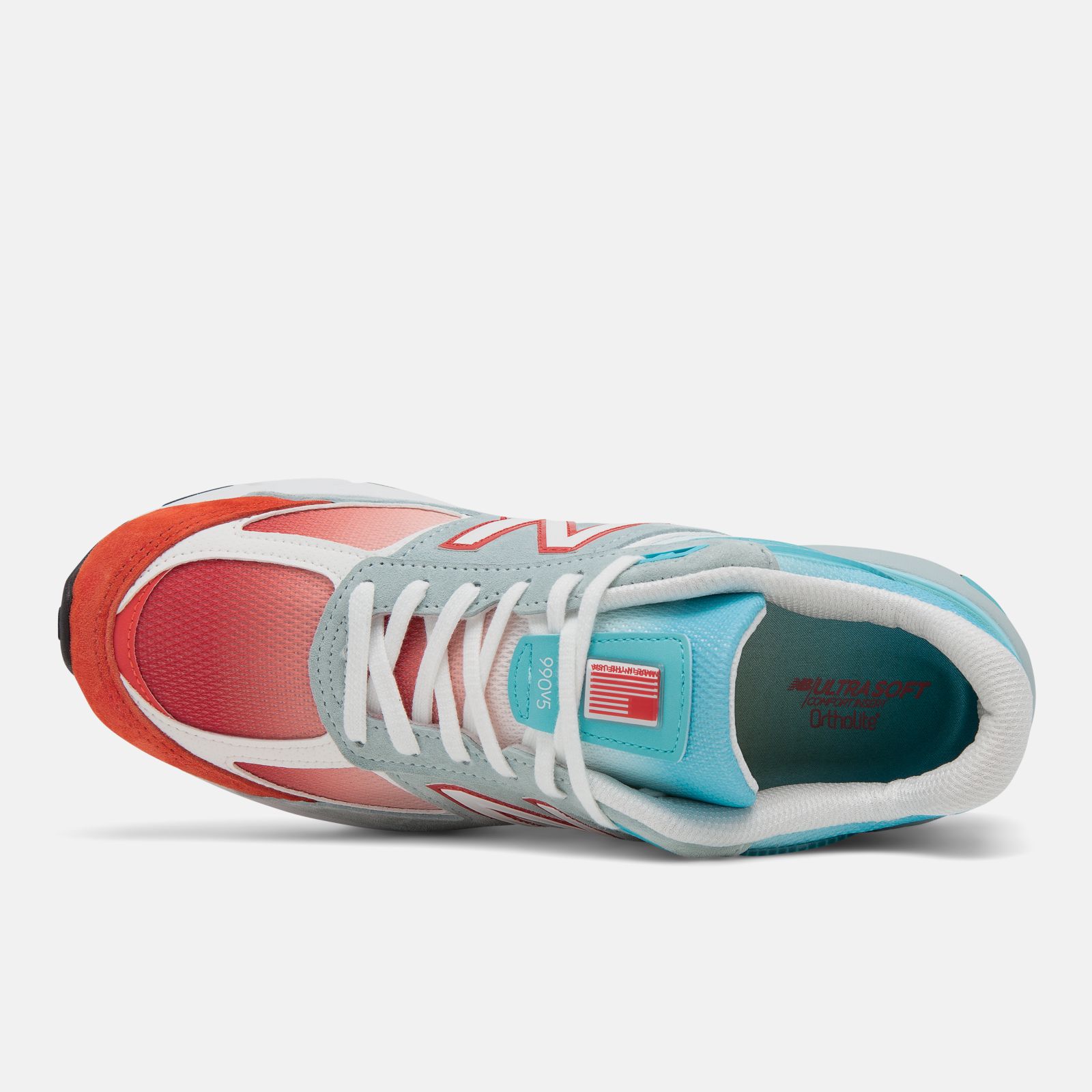 FAQs To Flag 
Where is the sneaker made? 
The 990v5 is a part of the New Balance MADE series, so 70% or more of the shoe comes from US manufacturing and industry. 
What colors are available? 
The 990v5 comes in one color: red, white, and blue. Can you think of a better way to represent American pride? 
What are the width options? 
This particular shoe is a standard width. Keep in mind New Balance shoes have a wider toe box than your traditional sneaker. 
American Made Sneakers Pricing
Let's talk money. The New Balance 990v5 comes in at $184.99. That's a great deal when you consider the comfort, quality, and durability you're getting with this sneaker. 
American Made Sneakers Reviews
Reviews for the 990v5 are positive across the board. That's not surprising. Take a look at what some happy buyers had to say about the product. 
Great shoes, great looking and best of all made in America!!
Another person said: 
I love the colorway of this 990v5! This colorway reminds me of the " bomb pop " popsicle! The shoe is very comfortable and stylish!
Finally, someone said: 
Fire color combination, a pair of jeans and a tee and you are set. 
Looking for More?
Do you love our buying guides? If so, don't forget to subscribe to our newsletter. We give a balanced briefing to thousands of readers every day and share new products every week.